Date:
Sunday, December 1, 2019 - 10:15
Erasmus+ Capacity Building in Higher Education (CBHE) Cluster meeting was held in Jakarta on November 27th -28th, 2019. The event was attended by key representatives from the European Commission, such as, H.E Vincent Piket, the ambassador of the European Union to Indonesia or Brunei Darussalam, and Ms. Giordana Bruno as project officers from EACEA (Education, Audiovisual and Cultural Executive Agency).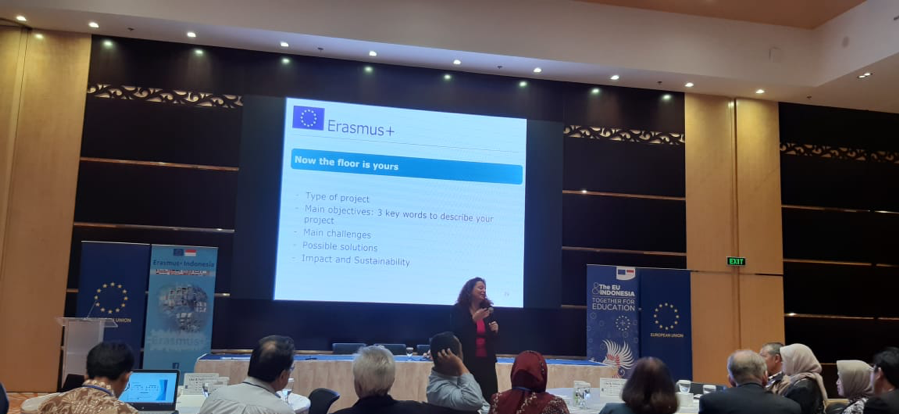 The event gathered around 100 delegates from Higher Education Institutions in Indonesia running the Erasmus+ Capacity Building in Higher Education projects. The project portfolio was ranging from entrepreneurship, renewable energy to disaster mitigation, or resiliency. INDOEDUC4ALL team presents as the only project in Indonesia, which put a strong emphasis on Equal Access to Education for Students with disability. During the presentation of the INDOEDUC4ALL, Ms. Giordana Bruno highlighted the issue of disability, which is one of the main focus of Erasmus+ Capacity building. She further encouraged to continue the excellent work that INDOEDUC4ALL has been done so far.
 The main objective of the CBHE cluster meeting was to bring together all projects and partners under the Erasmus + funding scheme in order to foster networking and exhange of good practices. Furthermore, the event provided an opportunity for each project to share their achievements as well as challenges faced during implementation. Overall, the event has allowed sharing about the project of INDOEDUC4ALL to a broader audience in Indonesian universities.